CABSINET OVERVIEW



The EU ACTS CABSINET (Cellular Access to Broadband Services and Interactive Television) project aims to define and demonstrate a wireless broadband access network for the coverage of the "last mile" in an urban environment. Video on Demand, Interactive TV, music and high speed internet access are the possible services provided to every home.

The architecture is based on a Two-Layer Network (TLN) in order to allow fixed and portable reception (see below).The first layer (Macrocell) is designed for fixed terminals (reception at 40 GHz). The second one (Microcell) is devoted to nomadic terminals (reception at 5.8 GHz). This will allow use of fixed and nomadic terminals simultaneously.

CABSINET follows standards such as MPEG2-DVB for broadcast downlink and DAVIC in the uplink (MAC management).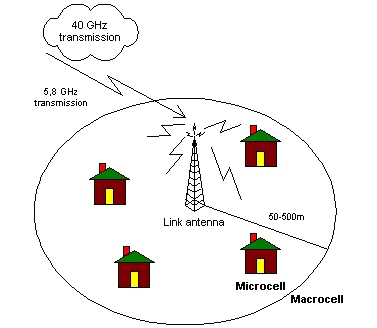 AQL PART IN CABSINET



AQL is responsible for the video server management. AQL is also involved in the MAC design and implementation, as well as the uplink specifications (communication between the User Terminal and the Video Server).

AQL has the responsability with SETELSA to further services such as Web browsing and e-mail.

AQL is also leading a workpackage (WP5) which is "Terminal, Server and Applications Realisation" in collaboration with ISM.

A user terminals Simulator has been developped (Java, TCP/IP, Windows NT 4.0).

DEMONSTRATION AT IBC'98




The IBC98 demonstration consists of :
1 Video Server delivering VoD programmes at 8 Mb/s each,
1 Multiplexer,
1 Base Station at 40GHz with a COFDM modulator,
1 Local Repeater in order to reduce the transmission frequency from 40 GHz to 5.8GHz,
1 Receiver at 5.8 GHz, based on DVB-T technology,
1 Set Top Box + 1 MPEG2 decoder,
1 User Terminal showing video and allowing simple VCR-type controls (start, pause, resume, stop),
1 TV set,
1 Interactive wireless return channel (off-the-shelf wireless system).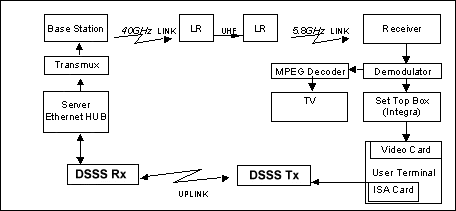 PROJECT PARTNERS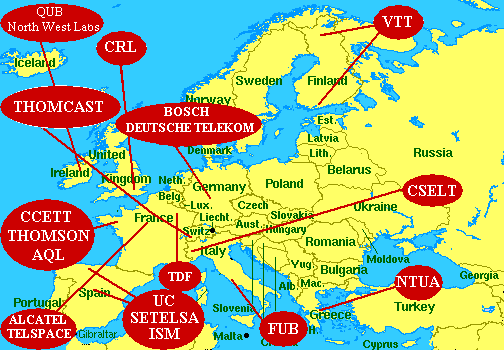 PROJECT LINKS



| | |
| --- | --- |
| | VTT CABSINET Web page |
| | CABSINET main Web page |